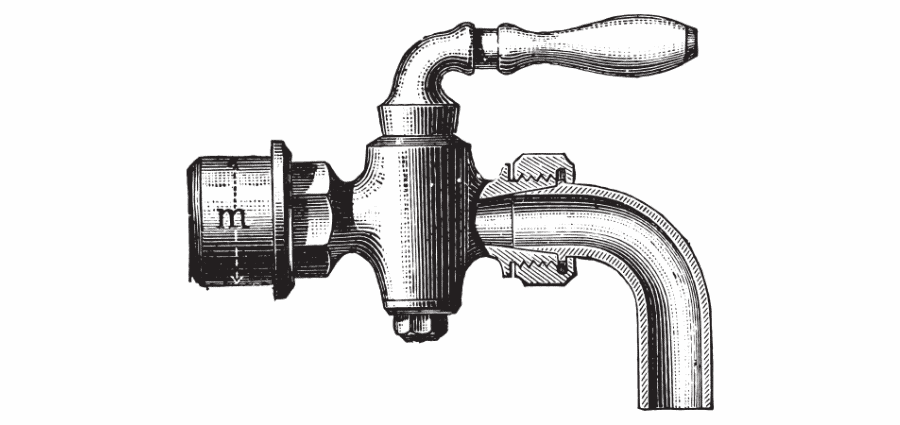 Plumbing has come a long way since the days of ancient Greece and Egypt! From the first aqueducts with clay pipes, to outdoor plumbing and the indoor plumbing that we know and love today, a lot has changed. And we're so grateful to be living in a time with such advanced plumbing technology!
It's impressive with what we can do with plumbing today. And while we might find it frustrating when our plumbing doesn't work regularly – we can't imagine living without our fantastic plumbing technology.
So let's take a look back at a brief history of plumbing and how we got to 2020!
Ancient Plumbing & Clay Pipes
Some of the earliest examples of plumbing have been found in Mesopotamian areas (now Iraq) as early as 4,000 BCE. The clay pipes that were excavated appear to have been designed to remove wastewater and capture rainwater in wells.
Archaeologists haven't yet found any evidence of earlier examples of interconnected fired clay sewer pipes in history. So we can be pretty sure that clay was the first product used in plumbing.
Copper Pipes in Egypt
Nearly 1,500 years later in around 2,400 BCE, copper piping first appeared in ancient Egypt. The purpose of Egyptian plumbing was to move water from the Nile to nearby crops and for other agricultural purposes.
Ancient Roman Aqueducts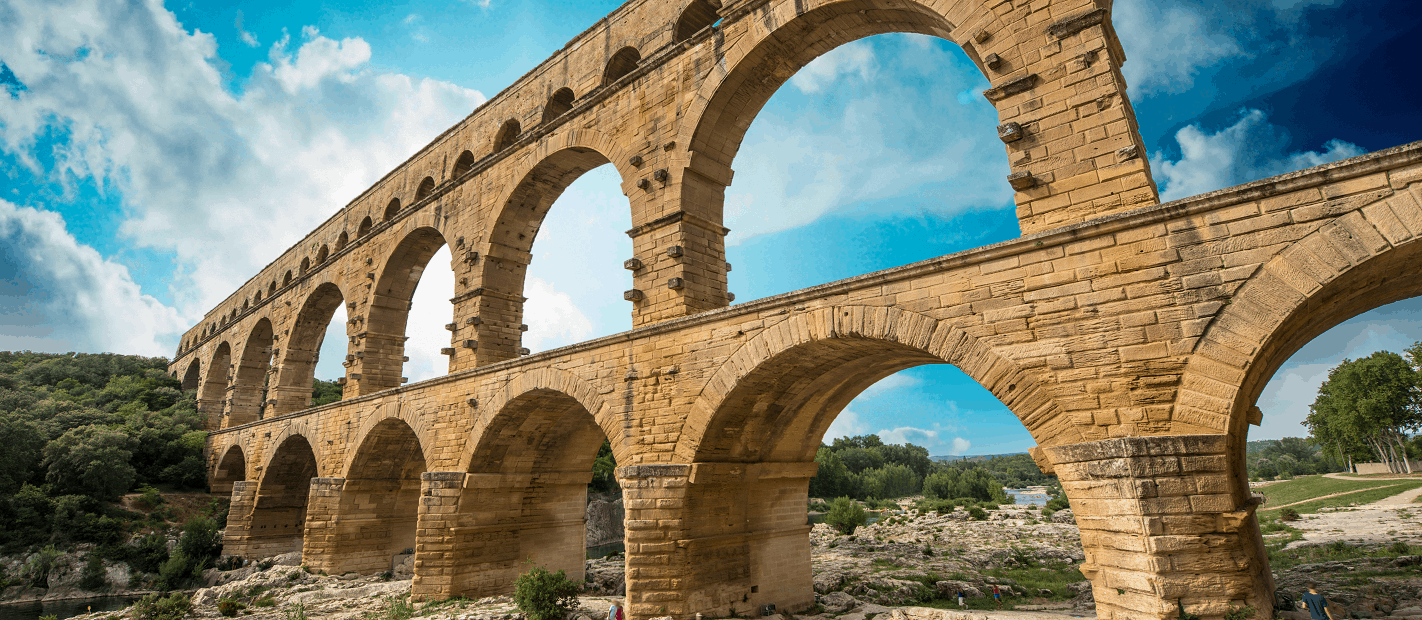 Jumping forward to ancient Rome, we see the first appearance of widespread lead pipes and the origins of the word 'plumber'! And we see the first instances of plumbing being designed for sanitation and personal conveniences.
During the Roman Empire archaeologies have found expansive systems of aqueducts, tile wastewater removal and the widespread use of lead pipes.
The latin word for 'lead' is plumbum – sounds familiar? With all the lead usage in drains and pipes, we can see this is where our modern-day word for plumbers has come from!
When the Roman Empire fell, so did the improvements of sanitation and water supply.
It wasn't until nearly 1,000 years later with the rise of modern day, densely populated cities that the need for an improved waste disposal system became necessary to prevent widespread public health issues and disease control.
Plumbing & Public Health
The modern-day plumbing systems were built out of the necessity to control epidemic outbreaks, more so than it was for the conveniences that we take for granted today.
Did you know that the typical family in the Dark Ages lived in a one bedroom flat with a dirt floor? All the family had in the way of plumbing, was a chamber pot for human waste, which was simply dumped outside after each use.



Water was scarce, so bathing and washing clothes was rare.

These were the conditions that contributed directly to the Black Plague, which was responsible for killing a third of the European population.

Without adequate sanitation, the Great Fire of London in 1666 has been seen as a blessing in disguise, as it (sadly) not only took the lives of likely thousands of people (shockingly, only 6 deaths were officially recorded!). But this disaster cleared out the garbage, waste and disease ridden rodents that occupied London and spread the disease. This has been the main contributor to effectively ending the plague.
The development of underground water and sewer systems eliminated open sewage ditches and cesspools that were common in large cities such as London and New York. This was mostly a public health driven cause to reduce commonly occuring outbreaks in largely populated areas – the convenience of this was simply an added bonus!
And since then, outbreaks of disease in developed countries have been made easier to control as basic sanitation (running water and effective waste collection) is a key part of keeping disease at bay.
Modern Day Plumbing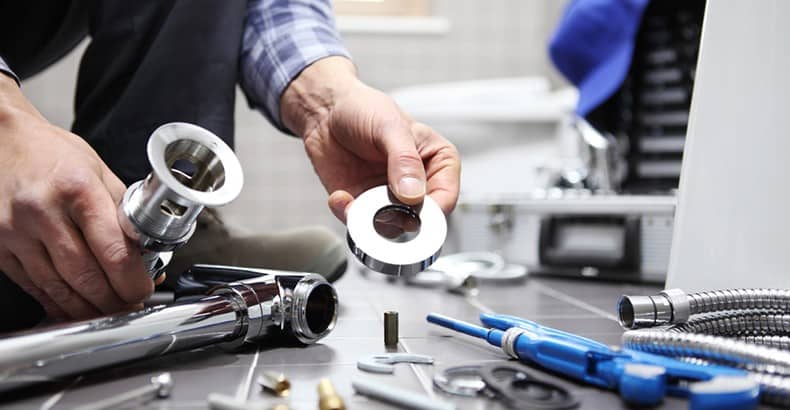 In 1596, the first flushing toilet was developed in England by Sir John Harrington. Nearly 200 years later in 1775, the modern toilet that you'd recognise was developed by Alexander Cummings. The difference between these two designs was that Cummings' prototype included a water trap and S trap allowing some water to stay in the bowl – which meant the water would no longer smell like sewage and could be easily cleaned after use.
In 1891, a name you may know, Thomas Crapper, (what an appropriate name!) improved upon this design with a valve-and-siphon design to revolutionise the loo!
As we know during WWI and WWII science advanced quickly, and plumbing wasn't missed! Potable water used lead piping for many years until it was discovered during WWII that it could result in lead poisoning. It was at this time that copper piping was introduced (or we should say-re-introduced) after first being used in ancient Egypt!
Due to a shortage in copper from wartime efforts, non-metallic and plastic pipe systems were first introduced. Since then, there's been a lot of science to go into the types of plastic materials for plumbing to increase strength, sanitation and longevity of underground plumbing systems.
Plumbing 2011 – Enter Emu Plumbing
Into the 21st century, when we launched Emu Plumbing, plumbing technology has progressed immensely, and it's been happening quickly!
Today's modern plumbing and tools include a huge array of cameras, water jetting, cutting and lining systems to ensure that our plumbing can run as smoothly as possible, without causing major disruptions to your day to day life.
Modern technologies we take for granted that save us time and money:
Hot water systems – get heated water straight to your home without the wait!
Water jetting – quickly clear out tree roots, debris and grease build ups from your pipes without having to dig up the surrounding areas

Pipe relining

– trenchless repair of damage to your pipes using the latest technology in patch and inversion relining.

Robot Cutters

– yes we have robots now! This technology uses high powered air driven cutting heads to cut through almost anything that's hindering your plumbing pipes.

CCTV

– find out exactly what's happening in your plumbing using drain cameras to record and navigate your plumbing.
So now every time you have a hot shower, a glass of clean water or use any appliances that use water – you can think about how lucky we are to have it and how it has progressed 🙂