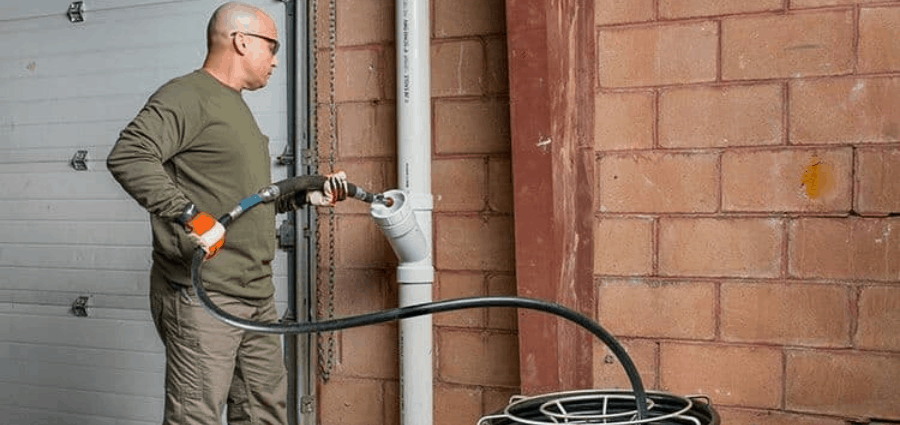 As we grow our business to focus on the more technical side of commercial plumbing through pipe relining, CCTV pipe inspections and water jetting, we also continue to grow our repertoire of technical equipment.
We'd like to welcome our brand new IMS Robotic Cutter to the Emu team!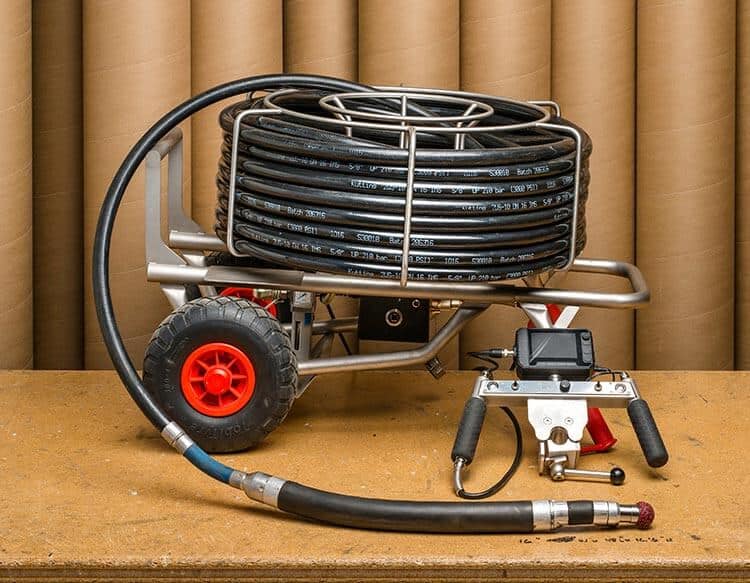 It might not look like much, but this piece of German technology is robust!
IMS Robotics is a world leading supplier for robots in small and medium pipe section applications. Because when it comes to getting a new toy – we'll only ever choose the very best.
What is a Robotic Cutter?
The IMS Robotic Cutter is a mobile cutting system to clear out the toughest blockages and debris from a wide range of drainage/conduit systems. Using its diamond and steel cutting heads, we can now cut through obstacles that once were impossible to get through. This means our ability to reline pipes without trenching increases further than we could before.
Robotic Cutting is one of the fastest and easiest ways to obliterate a blockage, debris or other obstruction to your pipe. Sometimes it's the only way. Because of the type of head and attached camera, it's the one of the most precise and toughest tools on the market today to cut out obstacles in pipes.
Think of it like a premium upgrade to a water jetter or eel. A fantastic tool for cutting out blockages and debris, such as concrete sediment or steel that needs extra oomph to remove, this robot cutter has the ability.
Similar to our pipe relining and CCTV inspections, the robot cutter's hose is inserted into your plumbing system from an inspection point. Using high pressure air to drive the cutting head, along with a digital CCTV screen, we can cut & navigate at same time. This means minimal disruption to your property.
Imagine cutting out break or debris and then repairing your damaged pipe through just one access point, it's now possible!
The IMS Robotic Cutter can navigate multiple junctions and pipe bends to clear out blockages, all the while causing no damage to the original, or relined pipe.
Do You Need to Use Robotic Cutting?
When we use the Robot Cutter, we can blast through and clear out all sorts of blockages from your plumbing or conduit system that a water jetter or drain machine simply can't do. Using the robotic cutting tool, we can clear out:
Roots
Broken pipe
Concrete
Rust build up 
Protruding objects, such as steel rebar, work stakes and wooden posts 
Failed relining projects
Using a range of differently shaped and strengths of the robotic cutter's diamond heads, we can work through nearly anything in your pipes.
Once we've cut out the obstacle, we can then reline the damaged pipe, creating a new pipe within the host pipe.
What Does the Emu Plumbing Team Think of the Robotic Cutter?
We can't get enough!!
Our team can't get enough of new technology and are constantly training with new equipment. Here's what our team has to say about the new robo-cutter:
"Emu Plumbing is always looking to improve our commercial capabilities- this new piece of equipment is a natural progression for us- & it's a game changer. Additionally, it doesn't just apply to plumbing & drainage- we can help anyone with conduits between 50-150mm pipes that have debris that cannot be moved by conventional means ."

Tony 
"The robo-cutter has allowed us the freedom to do inversion and patch relining in places we couldn't before. It opens up more options and variety. Avery exciting and important step forward for us."

Alistair 
"I love it – this machine brings another level of expertise to our job and I was amazed to see the difference between it and our mechanical cutters- it's a fairly high tech piece of precision machinery."

Niles
If you're experiencing blocked, impacted, damaged drainage or conduits and need a professional pipe cutting, clearing& relining team, call us today on 07 3358 3201 or get in touch online.