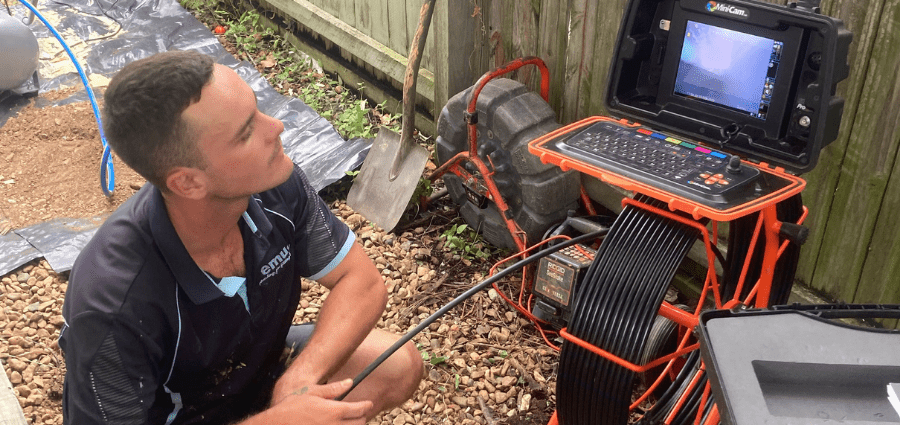 Completing commercial plumbing works can be expensive, and even intimidating if you're not sure how much it's going to cost.
Before you make that call for a quote, it's always nice to know what you can expect. That's why the Emu team have put together this breakdown on how much you'll be looking at spending, and what's going to contribute to the cost of your CCTV drain inspection.
What is CCTV Drain Inspection?
The purpose of the CCTV drain inspection is to identify any internal drain issues and the location of those issues which is typically a blockage or leak,
We'll use the most convenient access point, which can be either upstream or downstream of the issue, and proceed to CCTV inspect the pipeline. If an issue is found, we'll locate the position of the camera head at that point and photograph the location, record it on file and continue the survey until all issues are identified.
Once we have this information we're able to determine the best way to resolve any issues using one or more techniques including water jetting, robot cutting, pipe relining or pipe replacement.
What affects the pricing on CCTV drain inspections?
When we're quoting on CCTV drain inspections, there are a few things that will affect the cost:
The amount of investigation required
A longer or more complicated pipeline system will require more time and occasionally additional equipment.
Accessibility into the drain
The harder it is for us to get our equipment into the pipeline, the more this process can cost.
Accessibility throughout the drain
If your pipeline is blocked and requires cleaning as we proceed this is going to take more time and the use of additional equipment.
Size of pipe
While we can inspect most pipe sizes, the size does affect what equipment we're using and how easily we're able to move through the pipeline.
Location
The location of the blockage and pipe can mean that we need to bring in additional equipment to be able to access the pipeline.
CCTV Drain Inspection Options
Depending on specifics of the job, affects what type of CCTV drain inspection that we'll use. We have three typical options we'll use for our jobs:
Standard CCTV Inspection & Location
Using standing CCTV inspection equipment with easy accessibility and no blockages to clear our throughout the inspection, this is our standard drain inspection option.
Pan & Tilt CCTV Inspection & Location
This form of drain inspection includes the ability to look up into cracks, holes or junctions within the pipes. This technology is used for more complex pipeline systems and larger pipe sizes.
Drain clean & CCTV Inspection & Location
As we mentioned above, if we need to clear the pipes as we go so that we can proceed further into the pipe to identify any other leaks or cracks, we'll need to use additional equipment and more time will be needed on the job.
CCTV Drain Inspection Pricing Estimate
Our current CCTV Drain inspection prices (as of February 2023) are:
Standard CCTV inspection & location $250+GST first hour then standard hourly rate

Pan & Tilt CCTV inspection & location $300+GST first hour then standard hourly rate

Drain Clean & CCTV inspection & location $350+GST first hour then standard hourly rate
Do you need your drains inspected due to a blockage or drainage issues?