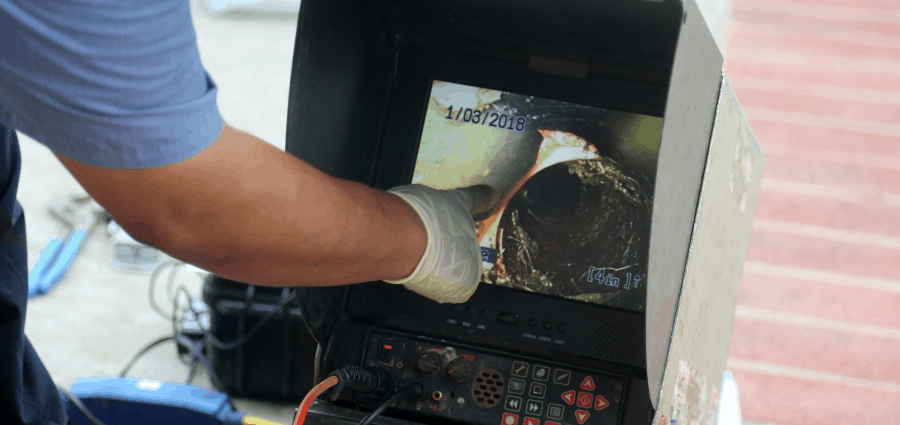 Have you ever noticed how often the most important things are often unseen? Well, plumbing is no different! The health of your underground stormwater and sewer lines make a difference to your life that you wouldn't even imagine.
No indoor plumbing? No thank you!
If the pipes and drainage at your home wasn't working properly, sooner rather than later, you'd know it. And then you'd really know just how important those pipes are not only to your lifestyle, but your own health and happiness. 
So when something goes wrong underground, in the pipes you can't see, you'll need to call in the experts with all the right tools to solve any issue that comes their way. And more often than not these days, those tools involve more technology than ever before.
What is CCTV camera inspection and how does it work?
We don't have x-ray vision. But with CCTV pipe inspection, you'll think we do! In a nutshell, a CCTV pipe inspection is when a camera is inserted into a pipe through the drain to look for any blockages or pipe damage that's causing your plumbing headaches. These CCTV cameras give us a look at all those buried pipes that we simply don't have access to.
Our cameras are made with a small camera lens and a bright LED light on the end of a flexible push rod that lets us inspect bends and turns and go wherever the pipes go. We simply insert our camera through the nearest drain and push it (gently) through the pipes until we see what we're looking for, or reach a blockage that we can go past.
The high quality camera sends a clear and coloured image to our monitor so we can easily see what the problem is with great accuracy. This removes any guesswork and confusion about what's going on in your pipes while providing no damage.
When we use CCTV pipe inspection technology, we can learn…
the condition of the interior and infrastructure wall surface of the pipe

the exact locations of blockages and damage

what's caused the plumbing issues

how the pipe has been installed and fitted – where the junctions and bends are in the network

how we can access the pipe from other points

exactly what the pipes are – their width, length and what they're made from
As you can see, we can learn so much more from getting inside "whole plumbing systems" than we can from simply looking at a section of uncovered or excavated pipe work.
What are the benefits of inspecting pipes with Emu Plumbing's CCTV Pipe Inspection?
There are so many reasons that using CCTV is the best way to inspect plumbing issues. Some are obvious, but there are also a lot of reasons that you may not have even considered.
It's so quick and easy! At Emu Plumbing, we have the capacity to inspect your pipes and diagnose the cause of any issues on the spot. This means that we can start rolling out repair plans immediately.
Completely non-destructive – our cameras get into the pipes through a drain, so there's no digging involved.
CCTV pipe inspections provide a high level of accuracy when diagnosing plumbing problems that simply can't be done in any other way.
It's cheaper than the alternative – which is digging or guessing. Getting in excavators and digging blindly is not only time consuming, it's expensive! (not to mention the cost of rehabilitation.
It's a sustainable practice. Our cameras are high quality and don't use a lot of power, they don't need to be regularly replaced and there's no need for big, carbon-producing machinery.
Emu Plumbing are Brisbane's experienced commercial plumbers, working with businesses and teaming up with other trades we recommend, to resolve even the toughest plumbing problems.