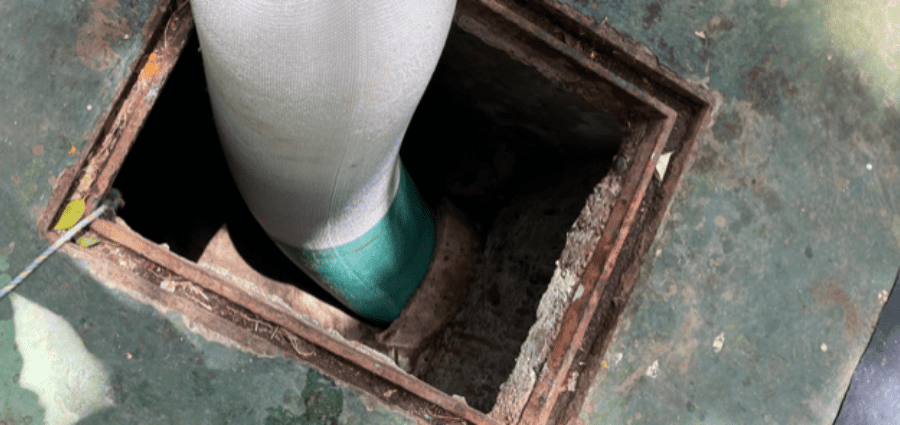 Queensland's plumbing infrastructure has reached a significant tipping point. Built anywhere from 50 up to 100 years ago, the fact that the material of these pipes has reached and even far surpassed its estimated lifespan without intervention and proper maintenance is alarming.
Now we all know that through care and fair use, it is possible for pipes to withstand the test of time. However, with increasing signs of degradation and reports of rising and costly problems, it is evident that our water and sewerage infrastructure is not withstanding our rapid urbanisation. Particularly in built-up areas, Queensland's significant population growth has been placing incredible pressure on our aging plumbing systems. So much pressure that it is crucial not to overlook the widely unpredictable and excessive costs of a $24 million repair to just 700m of pipe that occurred in Melbourne CBD in 2018.
As our population densities grow, this increasing risk of such significant issues arising presents our plumbing infrastructure service providers with some very serious challenges and considerations. These have been outlined in another research report funded by Queensland Water, concluding that these risks are placing our service providers on the edge of an infrastructure cliff when it comes to their pipe systems.
This report lays out the hard facts, summarising and collating Australia wide research, highlighting the dangers of the all too common business-as-usual approach. The report addresses numerous factors, highlighting the unrealistically slow timeframe of present maintenance plans, the longevity and suitability of replace and repair methods, how this impacts the public and the harsh reality of cost predictions. Overall, it signals an immediate call to action and overhaul of what is identified as an outdated approach.
"The research estimated that the current estimated replacement rate of 0.3% per annum of the 42,000 km ($11.5 billion) network of water mains means that pipes are ageing significantly faster than they are being replaced."

Queensland's Water and Sewerage Infrastructure Cliff
What this research does offer as a solution, is the serious consideration of implementing pipe relining into current maintenance plans. The idea being to catch and prevent problems before they become excessively costly or beyond repair; a point which is only getting closer. The fact is, with these relatively new pipe relining technologies, pipes no longer need to be replaced and repairs are now as good, if not better than new pipes!
Some examples of where we can already see the success of implementing pipe relining solutions are the City of Gold Coast Stormwater Pipe Reline Program. This five year program is well underway, with completion estimated for mid 2022. So far, this project has been able to save the community money, minimise disruption to residents and the environment and has greatly benefited the community through forward planning and flood resilience.
So how is pipe relining so effective and why should it be considered?
Cost of Pipe Relining for Service Providers
Estimated in the above report, at the current rate of 0.3% water mains replacement would cost Queensland $34.4 million a year and take 170 years to complete. However, we know that the average expected lifespan of pipes can be limited to as little as 50 years, meaning this cost begins to compound exponentially by the next round of replacements before the initial project is even half completed.
Being conservative and assuming all the pipes will last, if this rate can be increased to 1% replacement per year the project could be completed over 100 years. However, this is an increase in excess of three times the current rate, putting additional pressure on service providers and an estimated cost of $114.7 million per year. Keeping in mind that neither of these estimates have been able to account for inflation, population growth, unexpected failures and so on, all of which accumulate excessive costs, particularly thinking back to the 2018 Melbourne CBD example.
So how can pipe relining be more cost effective?
As pipe relining for sewage pipes is already becoming more common practice, data obtained from present sewage works estimates that full replacement at current rates would cost $9 billion, compared to pipe relining which would cost $6.5 billion. That is an almost 30% cost saving!
Convenience of Pipe Relining for Service Providers
A large portion of pipe replacement costs arise from the inconvenience of access. Replacing pipes requires extensive excavation, which can skyrocket your expenses; imagine the costs of having to dig up a park, kilometers of footpath or even a road!
Not only is this expensive because of resources and labor, it is also expensive because it is time consuming. This then continues to compound costs as excavation creates huge disruptions to the public space, residents and environment.
This leads to less obvious impacts such as: traffic needing to be redirected, businesses may have to close, residents could lose access to parks and dwellings, trees and landscaping may need to be removed, sinkholes could form, other public or environmental health risks and so on. Even worse is that depending on the size and complications of the job, this could last months. That Melbourne CBD pipe replacement disrupted the area for 12 months, with an entire city block road being completely inaccessible for 3 months.
"These secondary costs have been shown to significantly impact local economies and carry reputational and political risks for water and sewerage utilities."

Queensland's Water and Sewerage Infrastructure Cliff
Pipe relining can be used to avoid all of this!
It is…
Non-disruptive as access is obtained through man-holes, completely removing any excavation costs
Extremely non-invasive with an incredibly low site footprint and little-to-no environmental impact. This includes having no chemical fumes
Fast! Sometimes taking as little as a few hours
Pipe relining is a long term solution that often outperforms completely new pipes!
As well as the immediate conveniences of pipe relining, it does also offer significant long term conveniences. What stood out most in this research is that the current maintenance plans aren't keeping up with current growth rates and cannot withstand the pressure this has placed on our plumbing systems.
Arguably this is the most detrimental downfall of the current maintenance plans, the fact that they continue to fall further behind the times, pushing us ever closer to the edge of this infrastructure cliff. This highlights that longevity and preparing for the future need to be prioritised when considering pipe relining and replacement options.
Pipe relining has longevity
It is guaranteed to last for as long as pipe replacement
The materials are stronger, cheaper and more resilient than the materials of new pipes
It can easily be maintained before serious issues arise
The technology is forward thinking; constantly undergoing innovation and development to stay ahead of population density, environmental impact, public safety, increased ground pressure and degradation causes
So why pay more when you can pay less for something better? Something that has the needs and benefits of the community in mind.
Here at Emu Plumbing we believe that this is why pipe relining must be considered as common practice for service providers with aging infrastructure. We want nothing more than for your pipe systems to be a seamlessly integrated asset that works for you and your community. We want to take you out of the current pipe dream of never ending, inefficient pipe replacement and make your pipe dreams come true!