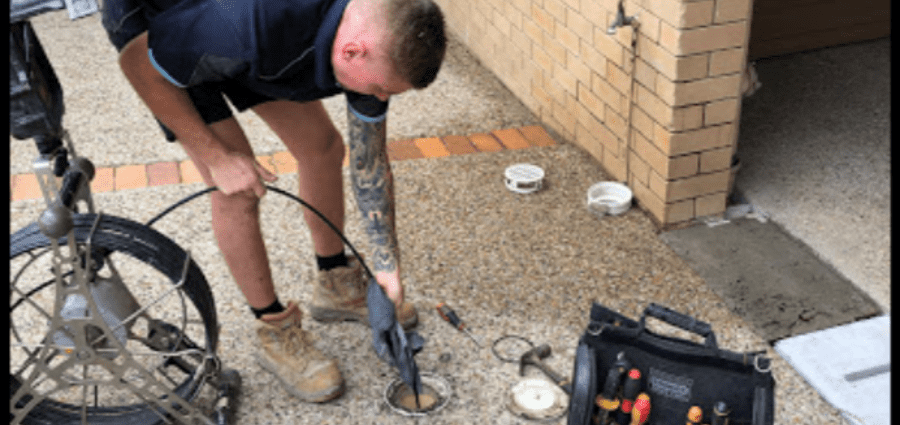 Cars and vehicles, smoke alarms and fire safety equipment, electrical gear and cords, water filters and gutters. What do all these things have in common?
If you guessed 'they're all subject to regular maintenance', you're right!
For commercial businesses, you'll know that some of this equipment maintenance is regulated by law to be checked by professionals. And that's really what you want, isn't it? We wouldn't want someone without the expertise to be checking our fire safety or electrical equipment. That's why we always call a professional.
And your plumbing is no different.
Professional Drain Cleaning
The plumbing at your business (or home) is used everyday, and let's face it, there isn't much care involved! All sorts of things get washed down your drains including non-flushable items and harmful chemicals causing damage.
Professional drain cleaning uses CCTV cameras to see exactly what's happening inside your pipes. We use this technology to review and assess what's going on and find exactly where your blockages are and what's caused them. Once found, we'll use high-pressure water jetting to safely clean out this building and get your pipes back into tip-top shape (or reveal hidden damage).
Ensuring that your property, sewer and stormwater pipes are getting regular maintenance with CCTV drain inspections and water jetting, you can avoid property damage, unnecessary and sudden costs and a whole lot more!
What happens when you don't get professional drain inspections?
Property damage
If you leave your pipes for too long without getting a professional drain inspection, everything that you flush down the drain – hair, dirt, grease, chemicals and anything else that's non-flushable – may build up in your plumbing.
These blockages can be very damaging to your pipes, leading to leaks, cracks and eventually complete breakage. If this is happening under your property, it can lead to serious property damage including foundational collapse!
Professional drain cleaning included in your regular property maintenance can help you avoid these costs, as you'll be avoiding serious damage.
Shorter lifespan
If your stormwater, sewer or property pipes are left to deal with everything that's washed down them alone, they're going to have a shorter life. Every single time something is washed through a drain it leaves behind particles that will build up on your pipes over time.
And if you think drain cleaners can help you avoid this, you'd be wrong. Sorry!
The longer between professional cleanings, the harder it's going to be to clean your pipes and take them back to their original glory; and that might not even be possible.
Even more problems
If you decide to forgo regular professional drain cleaning, and instead opt for home-remedy jobs, you'll likely face more problems later on.
When you face a clog in your drain and use boiling water or vinegar and bi-carb to remove it, chances are you'll notice a difference in your drainage. But these options are simply a temporary solution and won't completely break down what's causing your blocked pipe (if that's what the problem is!).
Why Invest in Professional Drain Cleaning?
First and foremost, professional drain cleaning can save you money! Just like your car, regular maintenance prevents unwanted, sudden costs from a breakdown that could have easily been avoided.
Professional drain cleaning increases the lifespan of your pipes by cleaning out problems when they're small, before they're able to grow into a big, expensive problem. Regular maintenance keeps your pipes (and your hip pocket) healthy!
For professional drain cleaning of your property, sewer and stormwater drains, get in touch with the professionals.