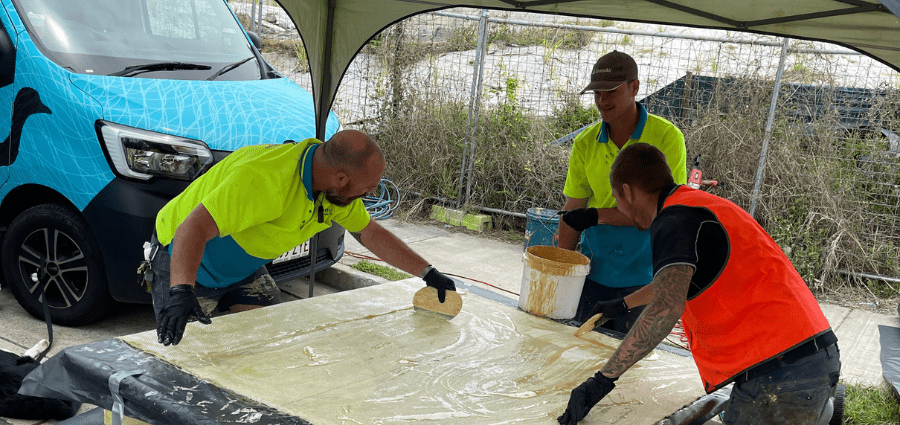 Drainage repairs can often be expensive, causing many people to put off repairs until the issues cannot be ignored any longer – which really isn't the best and most cost effective approach.
When drainage pipes become damaged and overflow, leaving them like this can cause unintended side effects, such as undermining subsidence. That's why it's so important to act when you notice slow drainage, overflowing drains or smelly drains. The sooner you identify and have these issues rectified, the less costly they'll be in the long run.
Luckily, with such advancements in technology it means that repairing pipes can be a lot more affordable.
How Pipe Relining Can Save You Money
1. Quick install times
When it comes to pipe relining, it's generally a much quicker job than replacement which will include excavation, usually coupled with concrete cutting or jackhammering. When the team at Emu attends a relining job we're typically done within a day or 2. That means you can get back up and running faster.
2. Less pipe joints mean less issues in future
Because of the single liner used to repair long pieces of pipes, relining doesn't involve a lot of fittings  – this means the drain therefore has less points of weakness – saving money on future repairs.
3. Pipe relining is a long-lasting solution
The durability of relined pipes is proven to be 50+ years! So pipe relining is not some quick and dirty solution, on the contrary, pipe relining essentially creates an incredibly strong, brand new pipe within the damaged existing pipe.
emu pipe relining comes with a 20 year installation guarantee.

The quality relining brands we use & recommend provide a 50 year durability guarantee on their products. You can rest assured it will last the test of time!
4. Fewer maintenance costs
The sections of relined pipe are mostly seamless and when reline patches are installed, the joins to the existing host pipe are extremely smooth – which in turn create less friction and resistance for water, effluent, paper and grey water to travel through the drain…causing less clogs along with less wear and tear.
5. Increase property value/saleability
Old drainage that's been relined means your buyers or tenants can be sure they won't have to deal with them blocking up any time soon, so they can sleep easy.
6. Save on approvals
Extensive drainage excavation works and disruption to private or public spaces can mean needing approval from the council. But with pipe relining that's rarely an issue! With no major excavations involved with non-invasive relining technology, there are less approvals required.
7. Very little excavation
Speaking of excavations, there are very few! Because you can now repair your drainage underneath landscaping, paving, foundations or buildings without excavators and large machinery, so you'll save on that along with the savings on reinstatement costs.
Repairing pipes under beautiful gardens, trees, retaining walls, buildings and even car parks or pools is all possible with pipe relining. Most often there is no visible evidence of the pipe repairs after we leave (other than CCTV photos of the repairs – that we give you!).