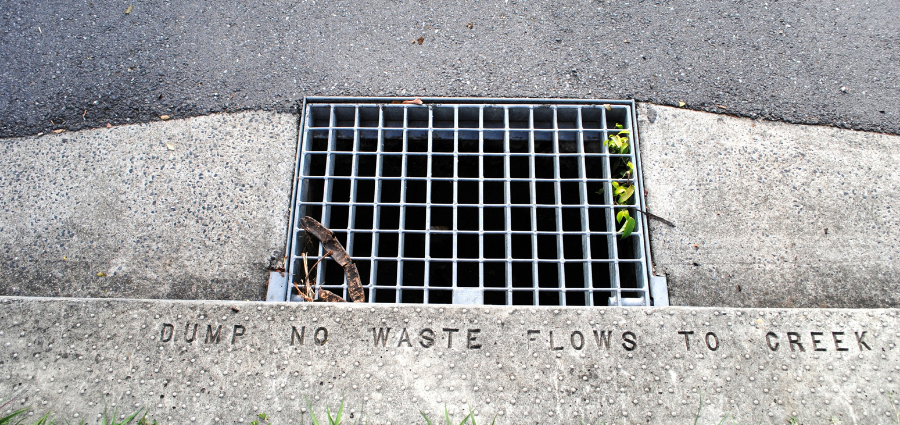 When the Brisbane summer storms roll in, as they do year after year, the efficiency and health of your stormwater drainage systems becomes a crucial part of your house or business plumbing structure. It's essential that this system functions effortlessly to safely direct water away from your property. However, if you find water is overflowing, pooling or creating uncontrolled runoff, you may have a blocked stormwater drain that needs some attention.
Below are some of our expert tips and services to help you evaluate, resolve and prevent stormwater drainage issues.
What to look for
Stormwater collects in two places: on buildings or structures and on land.
Structures such as the roof of your house, balcony or outdoor gazebo need to be monitored for leaks, overflow and signs of pooling. These signs commonly indicate a drainage issue, which can be identified by checking:
Roof pipes and guttering for damage, buildup and blockages
Restrictions to the water flow from the property to the kerb or drainage channel
The placement and effectiveness of drainage reserves and rubble pits
Obstructions of council-controlled drainage easement
Areas that feel or smell damp for watermarks and leaks
Land areas, such as driveways, garden beds or grassed and paved outdoor areas need to be monitored for overflow, pooling or uncontrolled runoff. These indicators of poor stormwater drainage are common in sloped areas where stormwater is drawn to the lowest point. Unfortunately, this is a natural occurrence, which can be particularly frustrating if the stormwater is coming from neighbouring properties. Things to look out for include:
Sloped or uneven areas and low points
Cracked concrete, paving and walls
Soil erosion patterns
Flooded garden beds
Recurring puddles and mud patches or stained or dirty areas on concrete or paving
Obstructed external drains that may be broken or have overgrown plants and debris

What you can do to prevent stormwater issues
Fortunately, there are various measures to manage the stormwater drainage on your property once you have evaluated the concerns. This will ensure that stormwater damage on your property is reduced and controlled, which will maintain the integrity of your property and land. This is crucial toward upholding your community responsibility of minimising your interference of neighbouring properties, the council stormwater drainage systems and the environment.
Stormwater maintenance is important now, more than ever, that the tropical monsoons and cyclones push their rains to the south. So keeping your drains flowing well is critical to preventing property damage. 
Preventative maintenance is the most effective way to ensure your stormwater drains function successfully. This is also the best way to ensure the longevity of your stormwater drainage system and minimise potential costly damage to your property and land.
Ideally, we recommend checking your stormwater drainage system before and after storms and flooding (particularly if it has been windy), during autumn when trees drop their leaves, or at minimum, thoroughly at the start and end of the summer storm season.
5 Ways to Prevent Stormwater Drainage Issues
Keep drainage points clear of build-up and debris to prevent it clogging other parts of your stormwater drainage system or causing harm to our waterways
Check down-pipes and gutters for any foreign objects that need to be removed (building materials, stones, tennis balls, weeds and other plant matter etc.)
Try flushing your pipes with a hose to prevent, remove or identify internal build-up or blockages
Once a year have your stormwater drainage system professionally water jetted to clear all debris and identify any underlying problems
Consider installing gutter guards, leaf diverters or smaller filters over drainage points to prevent larger debris and foreign objects from entering your stormwater drainage systems and our waterways
What to do if there's an issue
Due to the nature and dangers of stormwater drains, unfortunately once issues arise, there aren't quick, simple or safe DIY fixes. There are always risks of further damaging your stormwater drainage system or making the issue worse and more costly. There are also significant risks to your safety from stumbling on roofs, to getting stuck in pipes!
We recommend when it comes to resolving your stormwater drainage issues, that you contact a professional. At Emu Plumbing we have over 75 years combined experience and everyone on our team is fully licensed and trained in all of the equipment we use.
That's where Emu Pipe Relining & Plumbing comes in
Water jetting is the most common service we use to resolve stormwater drainage issues. Water jetting unblocks and cleans debris from pipes that might be creating an undesirable odour. Regular water jetting is also an excellent preventative maintenance measure that significantly decreases costly damages, such as those caused by the unmaintained growth of tree roots.
Once those pipes are clean, use the latest CCTV drain inspection technology to evaluate the condition of your stormwater drainage system. This enables us to identify concealed issues within your pipes, such as cracks or breaches in the system and diagnose the source or cause of the issue. From this, provide a solution to ensure they don't cause larger and more costly problems in the future. This process is fast, effective and saves you money as we can quickly and accurately gather the information that we need to problem-solve the best repair and maintenance strategy.
If our CCTV inspections find any cracks in your system, our revolutionary pipe relining service offers technology that repairs your stormwater drainage system without excavation, trenching or downtime.
Simply put, we insert a new, incredibly strong silicate or epoxy resin lining into the affected areas of the pipe. This essentially creates a new section of pipe within your stormwater drainage system that repairs any identified cracks, leaks or breaches. It can be a small section of pipe or an inversion liner of up to 50m or more if required. We also offer a 20 year guarantee on all pipe relining workmanship and our supply partners offer a 50 year guarantee on their pipe relining products, offering you long-term peace of mind.
We pride ourselves as being a leading pipe relining team in Brisbane. We attribute this to our engagement within the industry and prioritisation of research into emerging tools and technologies. Our focus is to offer our customers the best possible solutions for their stormwater drainage problems. Plus, we are so confident in the quality of our work we offer a 100% satisfaction guarantee on all services.
Having trouble with your stormwater drains?