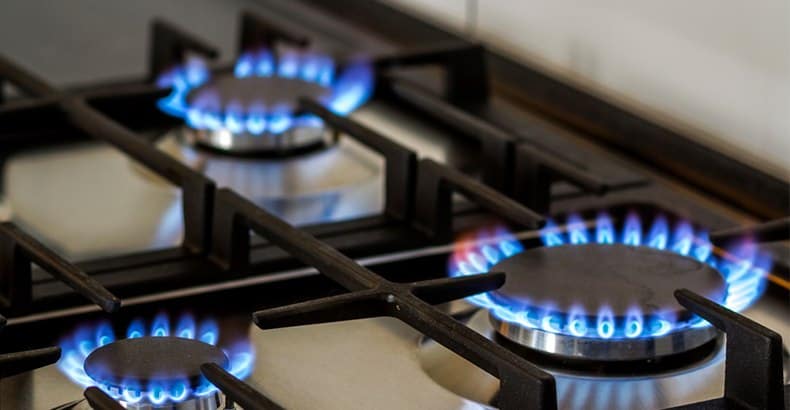 How to Prevent and Detect Gas Leaks in Your Commercial Kitchen
It's no secret that many professional chefs prefer the instant heat and temperature control of cooking with gas.
But while gas burners are genuinely safe to use, there are still important safety considerations. In a commercial kitchen, leaking gas can place employees and customers at significant risk.
Gas leaks can be caused by poorly fitted, improperly maintained or faulty appliances. This article will help you understand how to detect a gas leak in a commercial kitchen and keep your patrons safe.
What Are the Signs of a Gas Leak?
There are six common warning signs that may indicate you have a gas leak.
Foul odour

Utility companies add a foul-smelling chemical to gas to make it easier to detect if there is a leak. A strong smell of sulfur or rotten eggs is a common sign of a gas leak.

Whistling sound

Leak points can omit a hissing or whistling sound as the pressurised gas

is pushed through a small tear or loose connection. Larger leaks can produce a roaring sound from the gas line.

Yellow flames

A properly working stove burner burns with a crisp, blue flame. A ye

llow or orange flame is a symptom of incorrect air and gas mixture, suggesting a potential leak.

Burnt appliances

Soot or black or brown scorch marks on the outside of gas-using appliance can also indicate an incorrect mixture of air and fuel.

Dead or discoloured grass

Underground gas line leaks can poison the soil and vegetation around a pipeline, causing grass to die.

Increased utility bills

Your gas bills may be higher than normal if gas is escaping the gas line or kitchen appliances.
Quick tip for bottled LPG
It's common to notice a gas smell when your gas bottle gets low. To check your gas level, carefully pour hot water down the side of the cylinder. Wait a minute then run your hand down the side – it will feel cool at the level of the gas.
If it's nearly empty, turn it off, switch to another bottle and call your gas company for a refill. If the bottles are full, you likely have a gas leak.
What Are the Dangers of a Gas Leak?
If you can smell gas in the air, there's no need to panic. The volume of gas in the surrounding air needs to be very high for a person to suffocate or for it to reach ignition point.
But it's important to recognise that any gas leak has the potential to be dangerous if left unattended. Large quantities of gas, particularly in enclosed spaces, can result in unconsciousness or death caused by carbon monoxide poisoning, fire hazards and exposure to toxic by-products.
Did you know?
There are two types of gas for domestic and commercial use. Liquefied petroleum gas (LPG) is mostly stored in bottles, while natural gas (NG) is supplied by underground pipes to a meter. Unlike LPG, natural gas is lighter than air. If a leak should occur, natural gas will dissipate more readily into the air, eliminating the safety risk of it pooling at ground level.
How to Test for a Gas Leak
Not all gas leaks are large enough to be detected by smell. It's important to regularly test your restaurant equipment. An easy way to check for a gas leak is using a bubble test. Bubble tests are simply performed with a mixture of soap and water.
Spray the soapy solution around the pipes, fittings and valves or the gas bottle connection. The solution will bubble at the site of any leak.
Areas you should check include:
Pipe joint connections

Shut-off valve

LPG Bottle connections/valves.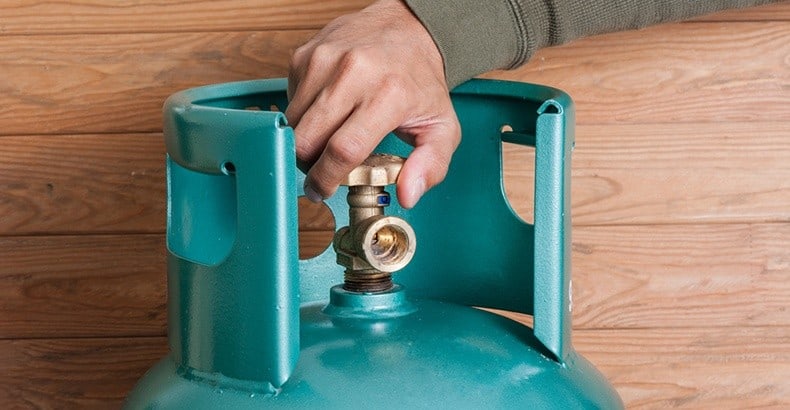 What Should I Do If I Find a Gas Leak?
If you haven't already, turn off the gas supply at the meter or bottles.

Open windows to allow extra ventilation and dispersal of the gas.

If the leak seems large/very strong smell-evacuate any employees or customers from the building, especially if the area is small and confined.

 

Call your gas utility company and alert them of the suspected leak. If the issue is not in their jurisdiction, they will advise you call your plumber & gasfitter to diagnose and repair the fault.
Physical symptoms of gas inhalation
If you're feeling lightheaded, dizzy or nauseous, you may be experiencing the effects of carbon monoxide poisoning. Go outside and breathe fresh air immediately. Contact a doctor if symptoms persist.
Top Gas Safety Tips
Make sure all commercial kitchen appliances are regularly serviced according to the manufacturer's guidelines.

Turn off gas appliances when the leaving the kitchen for an extended period of time.

Ensure permanent ventilation openings on your appliances remain clear.

Store LPG gas bottles in the open, never in enclosed spaces.

Never use outdoor gas appliances like barbecues and camp ovens indoors.
If you think you have a gas leak in your commercial kitchen, we can help.
When it comes to gas leaks, it's vital that you resolve the problem as soon as possible. Emu Plumbing services the greater Brisbane suburban area. Our plumbers are qualified to work on gas fittings and can assess, install and repair gas appliances and pipes.