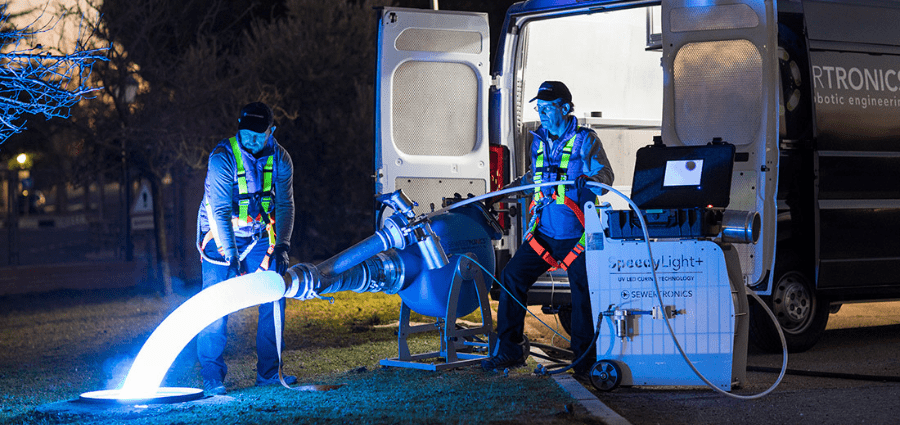 At Emu, we pride ourselves on delivering the best possible service. To help us do that we need the best possible equipment. We're always on the lookout for new relining technology that will help us solve more drainage problems for our customers.
We'd like to introduce you to our latest team member: SpeedyLight+ LED by Sewertronics.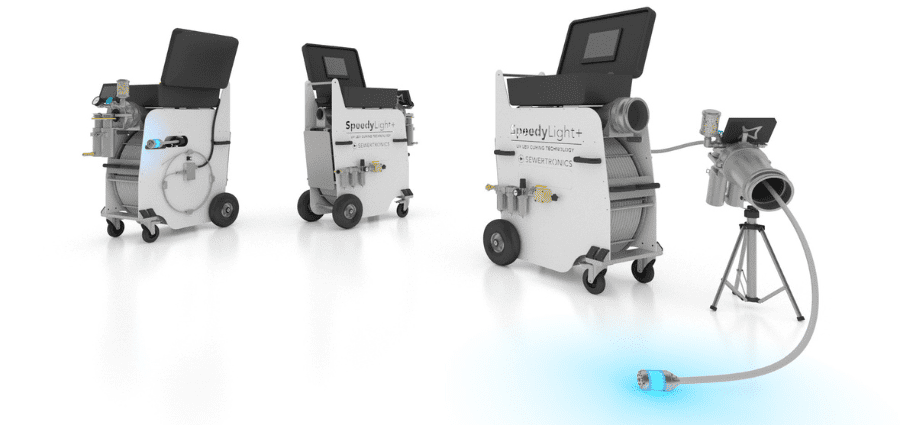 The SpeedyLight+ LED curing system is a game changer in sewer and stormwater drain rehabilitation and relining. Using this revolutionary LED technology we're able to reline pipes in a much broader range of situations than ever before.
What is UV Lining?
UV relining technology employs ultraviolet light to cure the specialised resin used in UV pipe relining. This allows us to reline large/long pipes without the traditional need to heat-cure the resin. Removing the need to heat the resin means we can complete a wider range of jobs, in much less time. The SpeedyLight+ can cure up to 5 times faster than traditional relining technology!
How Does UV Lining Work?
UV pipe relining works very similar to traditional pipe relining.
We start our relining jobs by using CCTV pipe inspection technology to determine the exact location of the damage and what it's been caused by.
Next, we use our water jetting and/or robotic cutting technology to clear out any dirt or debris, giving us a super clean area to work with so that we can do the best relining job possible.
Now it's time to reline! We'll wet-out (or infuse) the liner with a special UV resin, then insert the flexible liner into the pipe as normal, but instead of using steam or water to heat-cure the resin-infused liner, the SpeedyLight+ LED system uses UV lights which set the UV-reactive resin.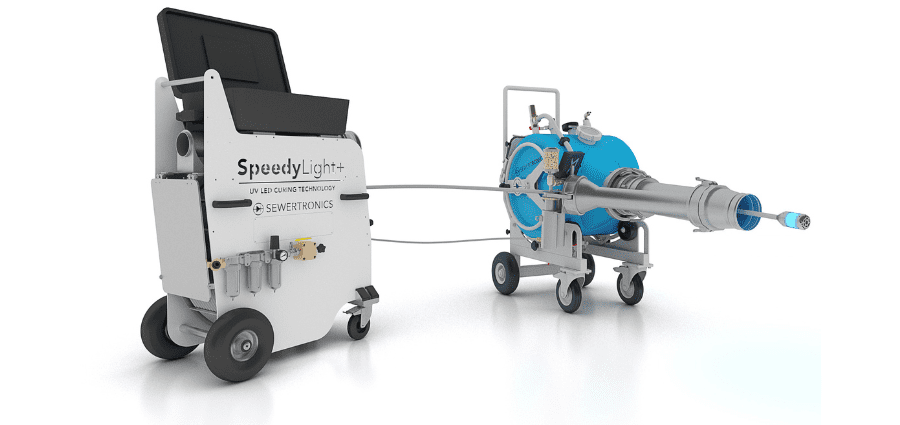 Benefits of using UV Relining
Using UV technology (and specifically the SpeedyLight+) for relining projects means…
Faster curing. The UV light speeds up the curing process which means that we can get the drain back in operation faster.


It uses less water and fuel than traditional heat-cure relining. It uses less water and energy to cure every metre of liner than traditional relining methods which helps us cut down on emissions.


UV Relining can be used more easily for both vertical and horizontal pipes. This means that we can rehabilitate a broader range of sewer and stormwater drains locations.


UV Relining is not subject to as many temperature parameters and water ingress issues as traditional heat-cure relining. This means we can reline in a broader range of environments.
Do you need stormwater or sewer rehabilitation?