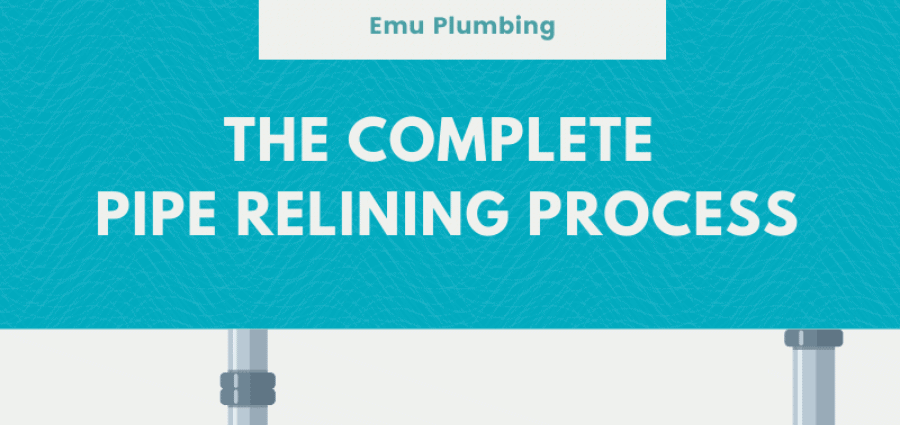 As you'd probably expect, there's a lot going on with your plumbing. Pipes are buried with debris or other construction materials around them. Or they're hidden behind walls, under concrete or in hard to access places for decades in buildings where the ground has moved. A lot can happen with pipes that we don't see!
Cracking, corrosion, or blockages from ground movement, tree intrusion or construction is common. And more often than not, it goes unnoticed. These plumbing and drainage  systems are an integral part of our lives, so it's only fair that when they're suffering, we should give them some love!
Pipe relining is the process of repairing a damaged pipe by inserting a flexible, resin infused liner (which is incredibly strong), into the host pipe. This creates a brand new inner-pipe to keep your plumbing running and save you from any large excavations. 
The process of pipe relining has more steps than you might think! While it's still going to be one of the quickest and most cost effective ways to repair your hard-to-get-to pipes, there's still a lot involved. At Emu Plumbing & Pipe Relining we take care of the whole process for you.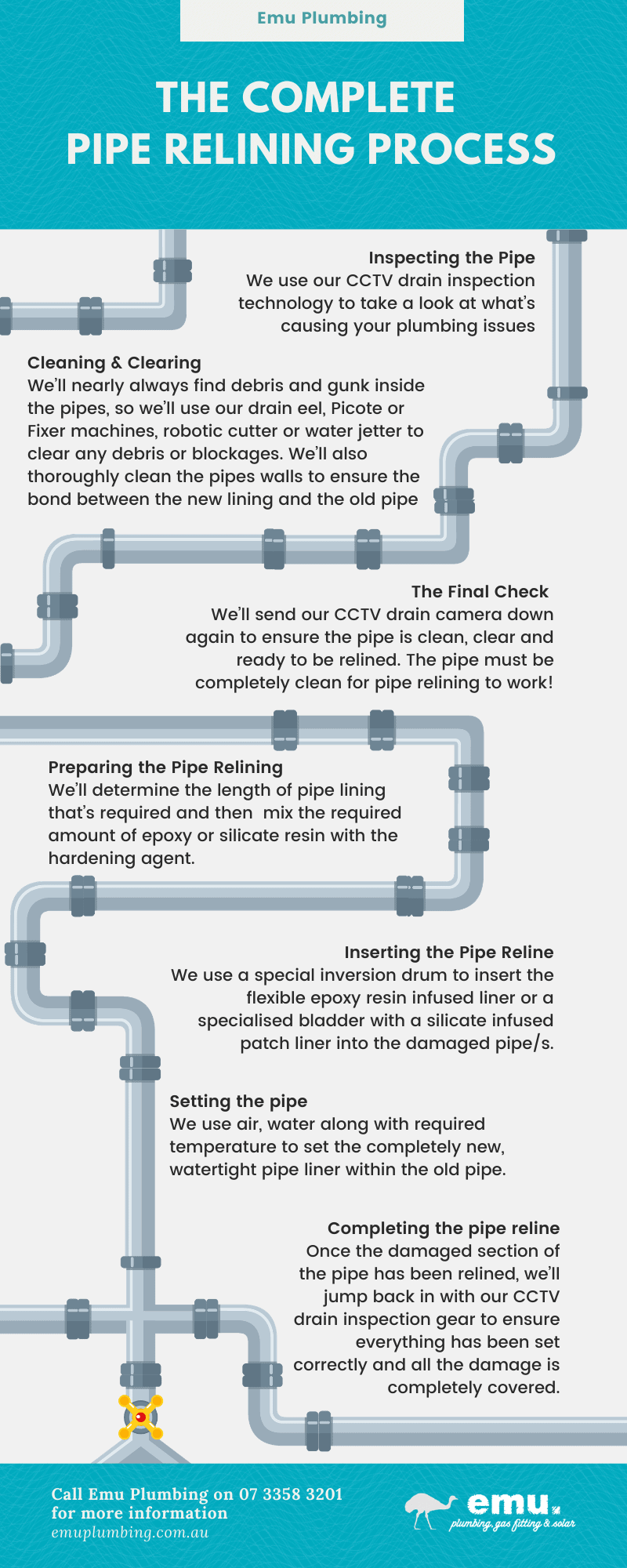 The Pipe Relining Process
Inspecting the Pipe
We use our CCTV drain inspection technology to take a look at what's causing your plumbing issues
Cleaning & Clearing
We'll nearly always find debris and gunk inside the pipes, so we use our drain eel, Picote or Fixer machines, robotic cutter or water jetter to clear any debris or blockages. We'll also thoroughly clean the pipes walls to ensure the bond between the new lining and the old pipe.
The final check
We'll send our CCTV drain camera down again to ensure the pipe is clean, clear and ready to be relined. The pipe must be completely clean for pipe relining to work!
Preparing the pipe relining
We'll determine the length of pipe lining that's required and then  mix the required amount of epoxy or silicate resin with the hardening agent.
Inserting the pipe reline
We use a special inversion drum to insert the flexible epoxy resin infused liner or a specialised bladder with a silicate infused patch liner into the damaged pipe/s.
Setting the liner 
We use air, water along with required temperature to set the completely new, watertight pipe liner within the old pipe. .
Completing the pipe reline
Once the damaged section of the pipe has been relined, we'll jump back in with our CCTV drain inspection gear to ensure everything has been set correctly and all the damage is completely covered.
This process might seem long and complicated, but our team of experienced and fully qualified pipe reliners have got this down to a fine art! From our first inspection, we'll be able to give you a timeframe of how long you can expect the job to take. 
Check out our latest pipe relining case study to see one of the trickiest jobs we've done!