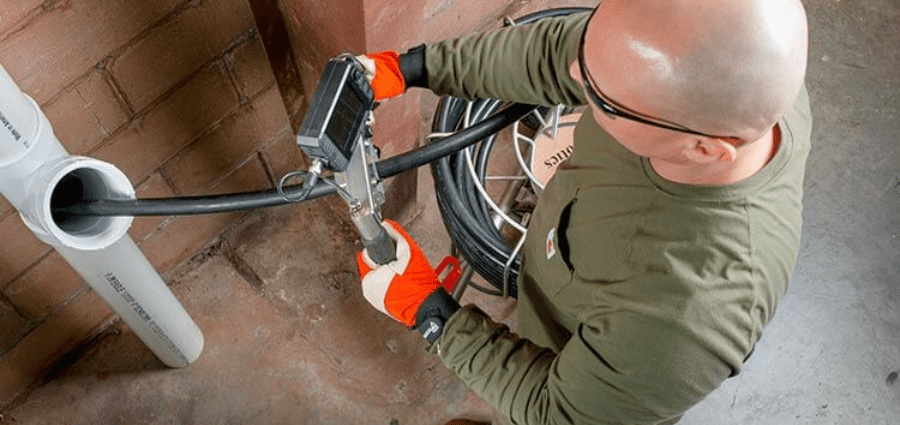 It might sound crazy, but concrete blockages in your drainage pipes can happen! It's not the most common blockage we find when inspecting drain pipes; but it happens enough that we need to have the right solutions available for our clients.
You may ask "how on earth did that concrete get there in the first place!?"
There are a few ways and unfortunately, one is that excess concrete simply gets hosed down nearby drains when a contractor is completing concrete floors becuase the proper methods for cleaning up concrete are ignored.
The most common way concrete or mortar ends up in your drainage is during renovations or building, cement dust or tiler's grout is swept, washed or blown down the drains accidentally. While this doesn't always cause problems immediately, over time buildup can develop into serious blockages.
So now you've found out there's concrete in your pipes, how are you going to remove it?
Enter The Robotic Cutter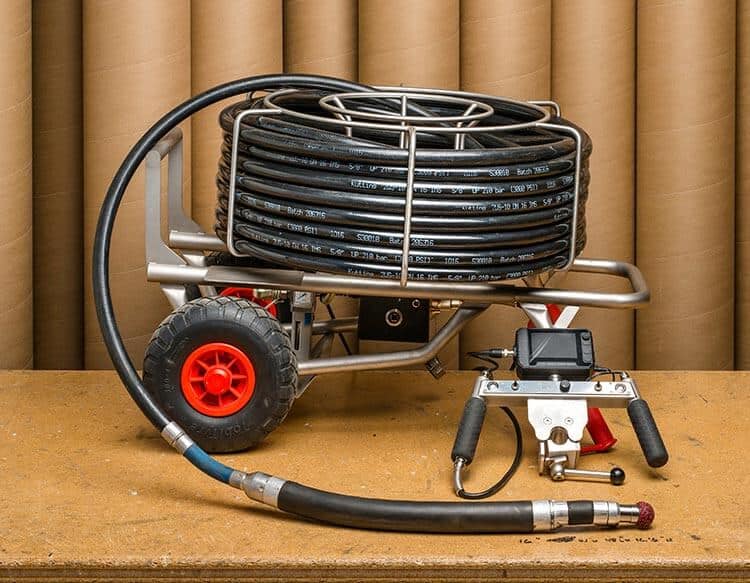 The IMS Robotic Cutter is the latest mobile cutting system which is designed to clear out the toughest blockages – including concrete!
The robotic cutter uses carbon, tungsten and diamond drill heads and high pressure air to cut at high speeds, making it tougher than other tools on the market. Along with the attached camera, we can cut and navigate multiple junctions and bends at the same time. Which means we can break through blockages without cutting through your existing pipes.
At Emu, we use this specialised equipment to cut through objects where traditional equipment isn't able, including broken pipes, concrete, steel bar and even failed relining projects by other contractors.
Benefits of the Robotic Cutter
In many cases, to remove concrete plumbers may try using high pressure water jetting, this can work if the concrete has not yet cured or set. However, if the concrete has set, it may be too late for that approach.
Another method is to use a mechanical eel or auger, while this may break up small deposits of hardened concrete, large deposits may be too difficult to work through. There is also a risk of breaking the host pipe due to uncontrolled spinning activity of the cutting head.
Special concrete dissolving solution may also be used, but needs to be used carefully and has limitations on suitability including amount of concrete, how cured the concrete is and the type of pipe it's used in.
When we use the Robotic Cutter, we are able to cut, clear and/or drill through many of the toughest obstacles whilst minimising the damage to the host pipes.
The Robotic Cutter has a flexible hose and drilling head with an attached camera, so this incredibly strong tool can access the damage from an inspection point without needing to dig up the area.
Using the attached camera, we can be precise in our work so that we can see how much concrete (or other blockages) is present, how much we are cutting, and stop before causing damage to the pipe we are working in.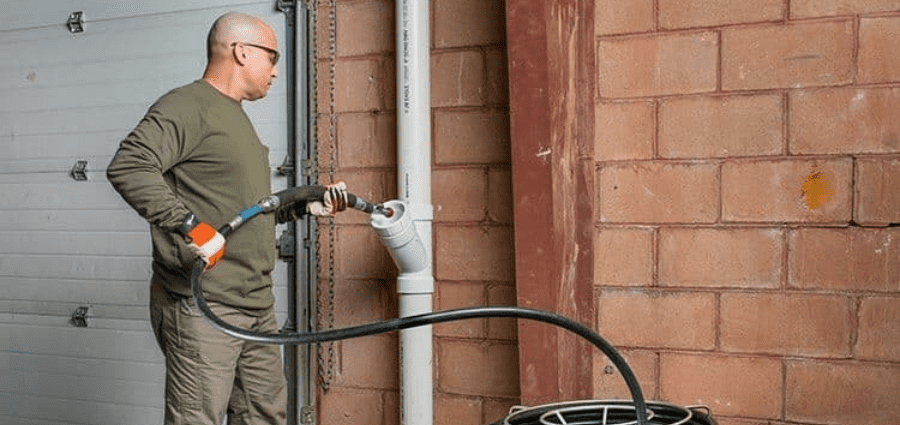 How the Robotic Cutting Process Works
If you suspect a blockage in your drains, give the team at Emu a call, the first thing we'll do is use CCTV technology to inspect the pipe. We'll do this to pinpoint the location of the blockage and determine what's causing the blockage. We may also use water jetting or Picote machine technology to clear away debris/effluent for a clearer picture of what's happening.
Once we've found that the blockage is concrete, steel or pipe (that can't be jetted or chained away), we can use the Robotic Cutter which can grind, chip or drill through the obstacle.
When your pipes are clear of concrete and anything else, we'll be able to see if there's any permanent damage that needs to be repaired – we can then carry out any necessary repairs with pipe relining or patching.
Get through even the most stubborn drain blockages using the very latest in German technology.